WCVB Boston


The U.S. government is closed. And if it doesn't reopen by Monday, Americans expecting refunds or waiting to hear back from the IRS on an existing audit or other tax matter may be out of luck. The government shut down early Saturday after Congress
The IRS Faces a Big Challenge. A Shutdown Would Make It WorseThe Fiscal Times
US IRS issues more tax guidance on deemed repatriation of offshore earningsMNE Tax
Lance Joined by 4 Jersey Lawmakers to Sponsor Property Tax Prepayment BillTAPinto.net
VI Consortium (press release) -Brinkwire (press release)

White House says President Trump in regular contact Saturday with GOP on Hill

RELATED ARTICLES

Chicago Tribune


Chicago is one of 20 finalists for Amazon's second headquarters. The company's existing headquarters, shown, is in Seattle. (Paul Christian Gordon / Zuma Press). Bob GoldsboroughChicago Tribune. With Chicago now one of 20 major metro areas making the
Could Amazon's new headquarters flip the presidential vote in a swing state?Washington Post
Think real estate prices are high now? Wait until Amazon moves to town.Miami Herald
Pittsburgh housing market a boon to attracting Amazon, real estate experts sayPittsburgh Post-Gazette
Dallas News -The Tennessean -

RELATED ARTICLES

Military.com


USAA has announced the ways it will be able to help members if a government shutdown delays military or government pay. Please note up-front: every situation may be unique, and you may be in a special category that doesn't fit the mold. Military Pay
USAA plans no-interest loans to military members in case of government shutdownmySanAntonio.com


A broad rally for stocks but not for the coal industry, major volatility for cryptocurrencies and advice to stop trying to beat the stock market.

Bloomberg


The Ohio Clock strikes midnight outside the Senate Chamber at the Capitol Building in Washington on Saturday, Jan. 20. Photographer: Zach Gibson/Bloomberg. Visitors to national parks will be prevented from using the full-service restrooms. Tourists won
What's happening at the IRS during the shutdownGant Daily
Who is affected when Government shutdownWeek Facts



Washington Post


Urban experts and Irish oddsmakers agree that the Washington region's chances of landing Amazon.com's second headquarters jumped significantly last week when the area won three spots on the company's list of 20 potential locations. Greater Washington
The disturbing part about Amazon's HQ2 competitionCNN
How Amazon's 20 contenders stack upThe Mercury News
Brains, trains and games comprise Montgomery County's Amazon pitchBaltimore Sun
Miami Herald -Chicago Tribune -
Oil prices are at multiyear highs, but these three companies are set to profit whether they go higher or not. Here''s why they''re worth buying now.



Washington Post


Amazon promises its second headquarters will add as many as 50,000 jobs. That's a lot. It's bigger than Donald Trump's 44,292-vote margin in Pennsylvania, a state that has two cities (Pittsburgh and Philadelphia) in the final 20 contenders. In a few
One of Amazon's HQ2 candidates looks like a clear frontrunnerYahoo Finance
A lot of boxes to check to become home to Amazon's second headquartersThe Columbus Dispatch
Dallas' competitors for Amazon's HQ2 spell out what separates them from the packDallas News
WIRED -The Tennessean -
CHICAGO/CALGARY, Alberta (Reuters) - Top U.S. grain merchant Archer Daniels Midland Co has proposed a takeover of Bunge Ltd , according to a person familiar with the approach, which could set up a bidding war with Swiss-based rival Glencore Plc .

RELATED ARTICLES
With oil prices rising sharply, GE's oil and gas business might finally start turning around.
Archer Daniels Midland Co. has made a takeover approach to Bunge Ltd., according to people familiar with the matter, setting up a possible bidding war after Glencore PLC earlier made an overture to the agricultural powerhouse.
Bears are growling that the fast-fashion powerhouse''s days as a growth story are over.

The Mercury News


CHICAGO — A woman with a history in the Bay Area of sneaking aboard planes slipped past security at Chicago's O'Hare International Airport this week and was flying to London when the airline realized she didn't have a ticket. Start your day with the
Serial stowaway arrested again at Chicago's O'Hare airportWashington Post
Serial Stowaway Slips Past O'Hare Security, Flies To LondonCBS Chicago
'Serial Stowaway' Marilyn Hartman Arrested at O'Hare: CopsNBC Chicago



The Courier-Journal


When Amazon listed the top 20 cities in the running to land its second headquarters and the 50,000 jobs that come with it this week, there were some familiar names. Indianapolis, Nashville and Columbus, Ohio. Not on the list: Louisville. Those other
Louisville business leaders say $170000 Amazon HQ2 bid not a failureWHAS 11.com
Amazon Narrows HQ2 Search to 20 MarketsCoStar Group
Pittsburgh's odds just increased for Amazon HQ2 — literallyPittsburgh Post-Gazette
Business Insider -GeekWire -

CBS46 News Atlanta


The Atlanta-based company says it'll attempt to collect and recycle a bottle or can for every one sole by the year 2030. The CEO also hopes in that year, the Coke bottles you are drinking from will be made of 50 percent recycled material. Coca-Cola
Coke aims to recycle a bottle for each it sells by 2030Tyler Morning Telegraph
Coca-Cola European Partners (CCE) Cut to Hold at Zacks Investment ResearchThe Ledger Gazette
Coca Cola Sets New 2030 Recycling Goals To Cut Packaging WasteTech Times
Greenpeace International (blog)

This Fool dives into some interesting implications of a claim made by an Apple analyst.


So what happened to the stock market during the government shutdown in 2013? Are there any technical signs now to think that something similar will occur or will the market just ignore it?

RELATED ARTICLES
The iPhone maker will likely have $44 billion left over from its repatriation bonanza, once debts, promises and investments are taken into account. The big question is: What will the company known for strategic small acquisitions and conservative spending do with that money?
The early days of the federal government shutdown won''t slow the American economy much, but that could change if the impasse drags out.
Retirement planning is hard if you don't know how much you'll get in Social Security benefits.

CBS Local


Seattle and Boston have been two of Delta's most important growth markets in recent years. That focus will continue in 2018. Adam Levine-Weinberg. (TMFGemHunter). Jan 20, 2018 at 3:20PM. Generally speaking, the biggest U.S. metropolitan areas are
Delta sets new guidelines on service animals allowed on boardNBCNews.com
Good dog? Bad dog? Delta wants to know before service, support animals boardTwinCities.com-Pioneer Press
Delta Air Lines Tightens Rules for Service and Support AnimalsNew York Times
Newsweek -KY3 -

WPXI Pittsburgh


Investors sentiment decreased to 0.8 in 2017 Q3. Its down 0.14, from 0.94 in 2017Q2. It dived, as 48 investors sold KO shares while 641 reduced holdings. 94 funds opened positions while 456 raised stakes. 2.73 billion shares or 0.93% more from 2.70
How do we make corporations more accountable?Greenpeace International (blog)
The Coca-Cola Co (KO) Shares Sold by Yacktman Asset Management LPTrueBlueTribune


Can the economy really make it three quarters in a row of 3% growth? The last time the U.S. accomplished that feat, George W. Bush was just half way through his presidency.
Some cities that seemed to meet the online retail giant's criteria still missed the cut.
The first week of fourth-quarter earnings releases from U.S. corporation is confirming what most investors had already suspected: a lower corporate tax rate is likely to boost profits and may even percolate into the broader economy

Newsweek


If you were planning on taking your hedgehog, snake or pig on a flight and calling it a 'service animal,' be warned: Delta airlines is tightening their rules about taking those animals with you. Different airlines have different rules about in what
The 747 Had a Great Run. But Farewell Doesn't Mean the End.New York Times
Delta flies 250000 service animals a year. Now the rules are changingKY3
Delta wants more information before it goes to the dogsThe Columbian
The Denver Post -ABC News -
Goldman Sachs says the government shutdown will result in a 0.2% reduction in first-quarter GDP for every week it persists. Expect the government shutdown to slowly drain the US economy, says Goldman Sachs. Now that the federal government has failed to successfully negotiate a funding bill, first-quarter gross domestic product (GDP) will slip by 0.2 percentage points for each week the shutdown persists, according to Goldman.


The Supreme Court agreed to consider the legality of President Trump''s latest ban on travelers from certain countries, giving the justices a chance to settle a yearlong legal battle.
Many retirees are surprised that Social Security benefits can be taxed at all.



RELATED ARTICLES

Bloomberg


The chief executive officers of Alphabet Inc.'s Google and YouTube pledged to scour videos and other content more closely for misleading news and inappropriate messages on their web services ahead of elections in the U.S later this year. "We have more
Google's CEO has no problem releasing employees from nondisclosure agreements so women can speak outRecode
Google CEO: AI is a bigger deal than fire or electricityFast Company
Google CEO Sundar Pichai says he does not regret firing James DamoreThe Verge
TechCrunch -Yahoo News -
The deadline for funding the U.S. government passed without a new spending bill. Senators gathered on the chamber''s floor to discuss whether they could stitch together a last-minute deal after it was clear that the House''s one-month measure didn''t have the 60 votes it needed to clear a procedural hurdle.

RELATED ARTICLES
Treasury yields rise on Friday even as investors watch Washington drama that could culminate in the first government shutdown in five years.

RELATED ARTICLES

Fortune


Alphabet's (goog, -0.19%) Google has agreed to a patent licensing deal with Tencent Holdings (tctzf, -1.08%) as it looks for ways to expand in China where many of its products, such as app store, search engine and email service, are blocked by
Google, Tencent Agree to Share Patents in Global Tech AllianceBloomberg
Google, Tencent eye collaboration on new technologiesPhys.Org
Tencent, Google sign long-term patent cross-licensing agreementXinhua
Financial Times -South China Morning Post -Moneyweb.co.za -

RELATED ARTICLES

New York Times


I wasn't sure if starting the year by going on assignment to a graveyard in the desert was a good omen or a bad one. Early this month, I joined the passenger manifest of Delta Air Lines Flight 9771, with nonstop service from Atlanta to Marana, Ariz
Good dog, bad dog ... Delta wants to know before you boardChron.com
Delta Tightens Leash On Service AnimalsCBS Local
Delta Air Lines imposes new rules tightening leash on support animalsABC News
Washington Post -wtkr.com -KVOA Tucson News -

RELATED ARTICLES
Friday's top personal finance stories

CBS News


Facebook is scrambling, once again, to address the trustworthiness of news shared on its platform. A week after announcing that posts from news outlets and other brands will be deprioritized from users' news feeds, the social media site says that where
Facebook Is Going To Let Users Rank News CredibilityBuzzFeed News
Facebook's Latest Fix for Fake News: Ask Users What They TrustWIRED
Facebook to rank news outlets by trustworthinessCNNMoney
The Hill -BBC News -Business Insider -

RELATED ARTICLES
Senate Majority Leader Mitch McConnell said the Senate would vote at 10 p.m. ET on the one-month spending bill passed by the House. But the bill was expected to come up short of the 60 votes needed. With no fall-back plan, lawmakers and aides said they were expecting the government to shut down at 12:01 a.m.
Oil prices finish lower Friday, pressured by concerns over growing U.S. oil production.

RELATED ARTICLES
24/7 Wall St. reviewed a range of data related to income, homeownership, education, and incarceration to identify the worst states for Hispanics and Latinos.        

RELATED ARTICLES
Move would combine two of the world's four largest grain merchants
The U.S. economy is in good shape. Signs point to continued expansion over the short term. However, gains will moderate as the expansion continues to age. In the week ended January 12, the ECRI weekly leading index increased to 150.3 from 147.6. The WLIg, the headline figure''s smoothed annualized growth rate, bumped up to 4.5% to 3.3%.

RELATED ARTICLES
In a blog post released Friday afternoon, Twitter Inc. provided updated information on the use of its platform by a Russian government-linked group to spread misinformation during the 2016 U.S. presidential election. Twitter said that it would email more than 677,000 U.S. users of its social-media platform to inform them that they had interacted with accounts now linked to the Internet Research Agency. Twitter said it had identified 3,814 accounts--1,062 more than previously reported--linked to the IRA that sent more than 175,000 tweets in the ten weeks leading up to the election. In addition, Twitter said it had identified more than 50,000 automated accounts used to spread the information. 'Any such activity represents a challenge to democratic societies everywhere, and we're committed to continuing to work on this important issue,' the company said. Twitter said it would improve machine-learning capabilities to detect and deal with such accounts, limit some abilities within Tweetdeck and on Twitter's API to combat the spread of misinformation, and work with politicians to ensure more trustworthy information in this year's mid-term elections. Twitter stock fell about 0.3% in after-hours trading.

Market Pulse Stories are Rapid-fire, short news bursts on stocks and markets as they move. Visit MarketWatch.com for more information on this news.


Stock indexes rose on Friday to finish the week strong, with even fears of a government shutdown failing to dampen bullish investor sentiment. The Dow Jones Industrial Average advanced 54 points, or 0.2%, to 26,072. The Nasdaq Composite Index added 40 points, or 0.6%, to 7,336. The S&P 500 rose 12 points, or 0.4%, to 2,810. The Dow and Nasdaq were both up 1% for the week, and the S&P was up 0.9% over the same period. The blue-chip Dow stood slightly below its record close, but the S&P and Nasdaq rallied to hit fresh all-time highs. All three benchmark indexes clinched their third straight weekly advance. The S&P 500 marked 395 sessions without falling 5%, an unequaled stretch in the stock market's history.

Market Pulse Stories are Rapid-fire, short news bursts on stocks and markets as they move. Visit MarketWatch.com for more information on this news.


As income stagnates, millions of Americans are struggling to save money.
Trump remains a provocateur in chief, while the Goldman White House contingent is leaving, The New York Times reports.
U.S. stocks mostly rise on Friday, suggesting major indexes would close out a positive week on the back of strong corporate earnings, although the prospect of a looming government shutdown kept buyers in check.

Recode


Some companies use NDAs to keep former employees from going public with their negative experiences. By Kurt Wagner Jan 19, 2018, 6:54pm EST. Share More. Share. Google's CEO has no problem releasing employees from nondisclosure agreements so women can
Google CEO Sundar Pichai says he does not regret firing James DamoreThe Verge
Google CEO Sundar Pichai doesn't regret firing James DamoreCNET
Google Executives Pledge to Scour More Content Ahead of Midterm ElectionsBloomberg
TechCrunch -Fast Company -
If tech fades, these cheap stocks could gain favor. From Sberbank to Posco.
The robbery is one of the largest in the world's biggest gambling hub, the South China Morning Post reports.
Company was approached last year by Glencore
Bunge Ltd. shares roared higher just before the close Friday, after a report that Archer Daniels Midland Co. was attempting a takeover. Bunge, which trades and processes agricultural commodities, had reportedly been approached previously by Glencore PLC about a merger, which portends a potential bidding war, according to The Wall Street Journal report. Bunge had been trading close to flat for the day before the report hit just minutes before markets closed for the weekend, and then spiked to a daily gain of 11.4% at $77.56. Archer Daniels stock gained 1.2%, almost all at the very end of the session, and both stocks gained slightly in after-hours trading as well.

Market Pulse Stories are Rapid-fire, short news bursts on stocks and markets as they move. Visit MarketWatch.com for more information on this news.


The U.S. Supreme Court will hear arguments about President Donald Trump's travel ban in April, it announced Friday. Trump's ban was struck down last month by a federal appeals court in San Francisco. A final ruling is expected by late June.

Market Pulse Stories are Rapid-fire, short news bursts on stocks and markets as they move. Visit MarketWatch.com for more information on this news.


Five-day decline in GE shares is stock's worst such run in nine years

Zacks.com


Alphabet Inc.'s (GOOGL - Free Report) division Google recently signed a patent licensing deal with Tencent Holdings Ltd in an attempt to find ways to grow in China, the second largest economy, where many of its products have been discontinued. The
Google, Tencent Agree to Share Patents in Global Tech AllianceBloomberg
Google and Tencent partner up on patentsFinancial Times
Google, Tencent eye collaboration on new technologiesPhys.Org
Siliconrepublic.com -Moneyweb.co.za -Xinhua -
Amazon shares up in premarket as Recode reports Prime price hike

RELATED ARTICLES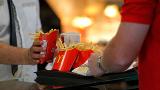 McDonald's plans to go green by 2025.