The World Health Organization is one of President Trump's "favorite punching bags," John Oliver said on Sunday's Last Week Tonight. "Over the last six months, Trump has constantly tried to deflect blame for his handing of the coronavirus onto the WHO, China, and the close relationship that he claims the two have" -- so much so he "decided to withdraw the United States from the WHO," and "the clock is ticking.""Given that we're now on track to leave the WHO in less than a year, tonight let's talk about what that actually means -- how important the WHO's work is, how valid criticisms of it are, and what we might be putting at stake," Oliver said. "One of the biggest powers it has is the ability to declare a 'public health emergency of international concern,' and issue recommendations on how countries should respond." And despite the WHO having "absolutely no power on its own to enforce those recommendations," he said, "it's managed to do some incredible things in the past," including eradicating smallpox, nearly wiping out polio, and overseeing the more "tedious" task of developing the annual flu vaccine, all on a budget around the same size as a large U.S. hospital.Oliver put Trump's main critiques of the WHO in context and explained why the U.S. walking away from the organization -- not trying to fix its problems -- would be misguided and counterproductive, "especially in the middle of a global pandemic.""This is yet another depress
And her tacky Christmas decorations.
Traffic was blocked off on Sunday after a man dangled from a rope on the side of the Chicago Trump Tower demanding to speak to President Donald Trump. The man was loaded into an ambulance Monday morning after a 13-hour standoff with Chicago police. The Chicago Sun-Times reported that onlookers wondered if the scene was part of an action stunt for the upcoming Batman movie being filmed in the city.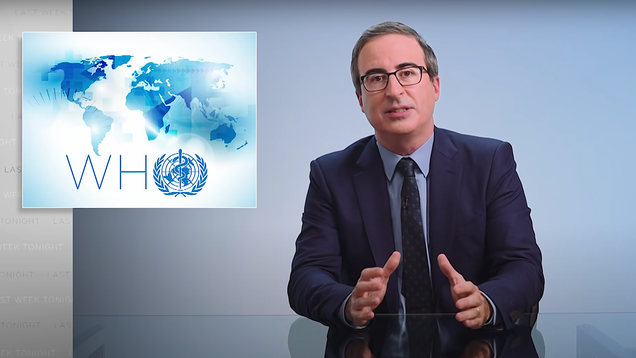 Yes, literally. John Oliver started out his Sunday main story by playing a clip of Donald Trump calling the World Health Organization "literally a pipe organ for China." Now, we've got more pressing issues for Last Week Tonight to cast its acerbically acute satirical lens upon than semantics, but, still, how is a…

Read more...


"The American people do not panic," Biden said. "Trump panicked."



RELATED ARTICLES
Trump praised Welker in the past, complementing her in January for landing a gig on NBC's "Today" show. "They made a very wise decision," Trump said.


Fauci knew Trump was in a precarious situation at the Rose Garden event for Amy Coney Barrett's SCOTUS nomination.


Biden's push for older voters reflects what one pollster called a "startling" shift from 2016, when seniors helped propel Trump to the White House.


The 98-story Chicago skyscraper previously sparked controversy from the public after an enormous, LED "TRUMP" logo was stamped on it.


CNN's Jake Tapper cut off Lara Trump during a tense interview on State of the Union on Sunday after she dodged a question about appearing to mock Joe Biden's stutter by claiming the Democratic presidential candidate is in "cognitive decline."Tapper had aired a clip of Trump's daughter-in-law claiming that every time Biden speaks, "I'm like 'Joe, can ya get it out, let's get the words out, Joe.' You kinda feel bad for him." Tapper asked Lara Trump in response, "How do you think it makes little kids with stutters feel when they see you make a comment like that?"Trump said she didn't know Biden had famously overcome a stutter, and pivoted to alleging his speech was evidence of "cognitive decline." Tapper quickly interrupted: "I think you have absolutely no standing to diagnose somebody's cognitive decline," he told her, pointing out that "I'm sure it offends you" when people do the same to President Trump."I'm not diagnosing him," Trump protested. "I'm saying Joe Biden is struggling at times on stage and it's concerning to a lot of people that this could be the leader of the free world. That is all I'm saying. I genuinely feel sorry for Joe Biden."But Tapper's patie

RELATED ARTICLES
"We have absolutely nothing to do with the Trump benefit today in Newport Beach. Zero."
Kardashian also discussed being robbed back in 2016 and how the O.J. Simpson trial "tore our family apart."