From a campaign to raise awareness about the COVID-19 pandemic to Myke Tower's powerful "Michael X" and Greeicy's epic Michael Jackson tattoo, here are the five uplifting moments this week.
Tim McGraw, Rascal Flatts, Jimmie Allen and Brett Eldredge are among those releasing new music this week.

RELATED ARTICLES
"First Stream Latin" is a compilation of the best new Latin songs, albums and videos recommended by the Billboard Latin editors.

RELATED ARTICLES
Lady A, the singer, has responded to Lady A, the band, following their headline-making lawsuit over trademark of the name the two acts now share.
The new music that came out this week told the stories of Life on Earth, life on the other side and life in outer space.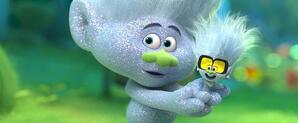 Want to know what's coming soon to digital and what to watch right now on FandangoNOW? Here is your weekly guide to the latest releases:   What are the latest new releases to watch right now? Following its Home Premiere release, the hit animated sequel Trolls World Tour is now available to own digitally. Bonus features include music videos, deleted scenes, guided tours, dance tutorials and a new short film starring Tiny Diamond. Plus, you have the option to watch the movie...

Read More

Read Comments