Presidential election in swing states is probably closer than the polls indicate, says filmmaker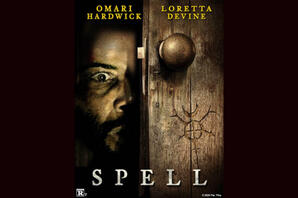 Raised in a gorgeous, rural region of the country, Marquis T. Woods (Omari Hardwick) has established himself in New York City when he learns of the death of his father, prompting him to return home in the new thriller Spell. The trip does not go well, however, and Marquis soon finds himself stranded in an isolated cabin with Eloise (Loretta Divine), a woman who practices dark magic and starts to make him feel very, very uncomfortable. In our exclusive clip, the injured Marquis has awakened...

Read More

Read Comments



RELATED ARTICLES
Fox's hit series The Masked Singer is getting company with The Masked Dancer, a chance for celebrity contestants to show off their moves in disguise.
Plus: Watch Gilbert Bailey II, Ephraim Sykes, and more in a new music video from Beetlejuice alum Gilbert Bailey II.

RELATED ARTICLES
Tensions are once again boiling over between India and Pakistan - only this time over basmati rice, the long-grained aromatic staple of dinners around the world. Islamabad has taken offence to New Delhi's plans to seek permission from the European Union (EU) to export the grain as a product unique to India, known as protected geographical indication (PGI). Other products the EU currently recognises as having PGI status, described as possessing "qualities, reputation or characteristics relating to its place of origin", include Stilton cheese and Scottish whisky. Pakistan fears that if India is able to obtain this qualification standard, it will suggest that Indian basmati rice is superior to the Pakistani equivalent and harm its exports. Currently, the EU imports two-thirds of its approximately 900,000 metric tonnes of basmati rice annually from India, although Pakistan makes up the remaining third.